Medigap is a private health insurance plan that pays some or all of your medical and hospital costs that Medicare doesn't pay, such as copayments and coinsurance.  Premiums vary by insurer and state.  There are 10 standardized Medigap plans (Plans A-N) and premiums are the same throughout a given state.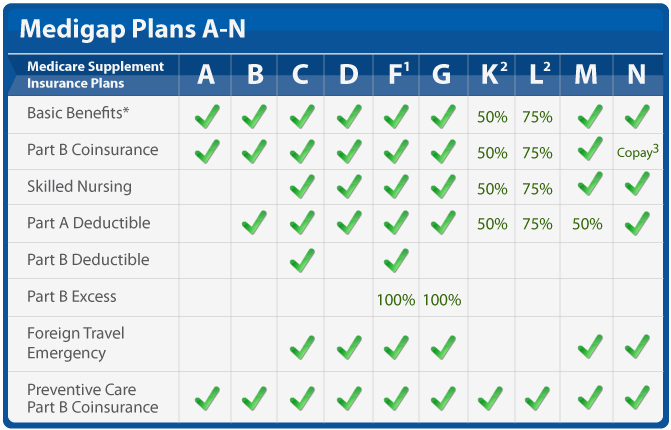 How to buy a Medigap policy
You need to decide which Medigap plan to get. Medigap policies are standardized, and in most states they are named by letters, from A to N. Compare the costs covered by different plans, and choose a plan that has coverage for your needs.
You can choose your policy by searching for policies in your area. There is only one difference between policies sold by different companies, even if they have the same letter.
When is the best time to buy a plan?
You can buy a Medicare Supplement Plan on the 1st day of the month in which you're enrolled in Medicare Part B, even if you're not yet 65. In some states, you can buy a plan on the 1st day you're enrolled in Medicare Part B, even if you're still under 65.
Your medical history can't be used against you if you meet certain criteria, including applying during your Medicare Supplement Open Enrollment Period or if you qualify for guaranteed issue. State laws may vary.
How much do supplemental Medicare plans cost?
In 2016, the average medigap plan costs more than $2,200 a year.  The average medigap plan provides coverage for all or most medical expenses other than what's covered by original Medicare (Part A and B) for people who have enrolled in both medigap and Part A and B. 
The number of Medigap plans offered varies greatly from state to state, so costs can vary by location too.  Medigap plans are standardized based on the letter of the alphabet (e.g., Plan A, Plan F), but each Medigap plan offers slightly different coverage levels and premiums so it's important to compare Medigap plans.